BC Mining Renaissance Continues with Historic Revenue Agreement

Source: Jeb Handwerger for The Gold Report 09/03/2010

Gold Stock Trades Editor Jeb Handwerger joins The Gold Report for a look at the mining renaissance currently taking place in British Columbia. With the BC government now playing a more active role in bridging the conflicting needs of opposing sides, Jeb sees diminishing poverty, crime and unemployment levels in the province that generates close to $8 billion a year. "This is a historic first," he says, "BC's government sharing its wealth with the natives." Jeb also offers up some names in the space that are poised to grow alongside BC's rising economy in this Gold Report exclusive.
Mining investors interested in the future of mining in British Columbia should be excited about the revenue-sharing agreement forged with the local aboriginal communities surrounding these mines. This agreement will take a lot of pressure off the mining companies who, up until now, have negotiated directly with indigenous nations. These negotiations were often riddled with strife and animosity. 
Historically, the building of a new mine in BC was an almost impossible task due to land disputes and tense negotiations with the aboriginal population. However, the lack of mine development has caused poverty, crime and unemployment levels to increase. The government is now playing a more active role in bridging the conflicting needs and interests of the opposing sides. If mines open, unemployed citizens would find employment and tax revenue would blossom. Gold and silver prices are reaching new highs and British Columbia leadership is realizing that now is the time to get mines going, and listening to the majority of its constituents. The aboriginal people have also experienced the ramifications of a dismal economic situation. They want their local communities to reap the long-term benefits of renewed mining activity.
British Columbia will share the tax revenues with the local aboriginal people. This is a historic first: BC government sharing its wealth with the natives. The broad-based consensus shows the necessity for all the parties to come to an agreement to get prospective mines built and a much-needed economic recovery underway. It also shows how BC is proactively showing support to mining companies to make sure projects are being completed. It is impressive to see how far mining has come in this province. British Columbia has revamped its image from being a difficult jurisdiction to one that is making progressive decisions to support mining. 
Mining is crucial to the future of British Columbia as the industry brings in close to $8 billion a year. Reserves are declining, mines are closing and unemployment has been exacerbated due to the mountain pine beetle infestation, which has devastated the lumber producers that were so vital to the economy.
One major agreement occurred with the Secwepemc Nation near New Gold Inc.'s (TSX:NGD; NYSE.A:NGD) New Afton Project. New Afton is going to be a major mine producing 85,000 ounces of gold, 75 million pounds (Mlbs.) of copper and 214,000 ounces of silver for New Gold. Production is scheduled to commence in the second half of 2012. The mine life is 12 years and the infrastructure is excellent with power and gas lines on the property. It is a major part of New Gold's growth as cash costs will be significantly driven down due to all the copper and silver byproducts.
There is absolutely no doubt that the commencement of this mine, which is scheduled for the second half of 2012, will play an important role in the local economy. New Gold is extremely pleased with this agreement as it dissipates the possibly complex negotiations with local nations. This revenue sharing agreement is proving that British Columbia is supporting New Gold's commitment to start operations. 
The second agreement was with McLeod Lake Indian Band, which lives near the Mt. Milligan Mine and which was owned by Terrane Metals Corp. (TSX.V:TRX). On July 17th, Terrane Metals signed an agreement with Thompson Creek Metals Co Inc. (NYSE:TC; TSX:TCM). Thompson Creek will now own this project. Royal Gold Inc. (NASDAQ:RGLD; TSX:RGL) will have 25% of the gold production. Terrane received a 35% premium for this mine. As mining improves in British Columbia due to broad-based support, investment demand for BC miners may increase. I expect a pickup in mergers and acquisitions in BC in 2011—especially ones for which we've seen previous takeover bids, such as NovaGold Resources Inc. (NYSE.A:NG; TSX.V:NG) and Copper Mountain Mining Corp. (TSX:CUM).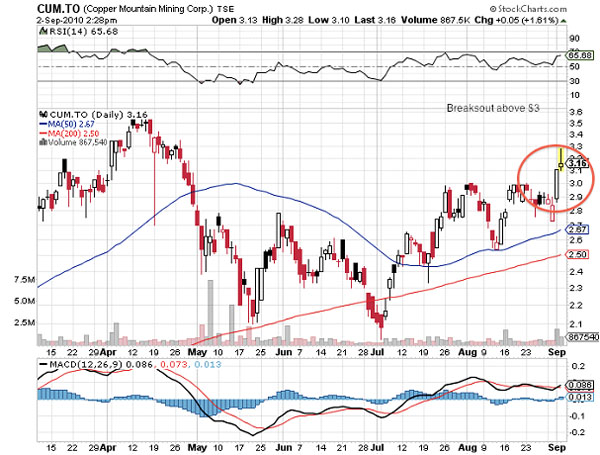 Copper Mountain is on track to commence a mine this year. After rejecting Taseko's unsolicited bid in 2009, Copper Mountain has been busy building one of the largest copper mines in Canada. This is a past producer that expects to be producing copper by June of 2011. Copper Mountain is fully financed and will be producing 105 Mlbs. of copper annually. They expect to be in preproduction later this month. The recent price breakout is demonstrating investor demand in a company that is transforming into a large producer of copper and precious metal byproducts.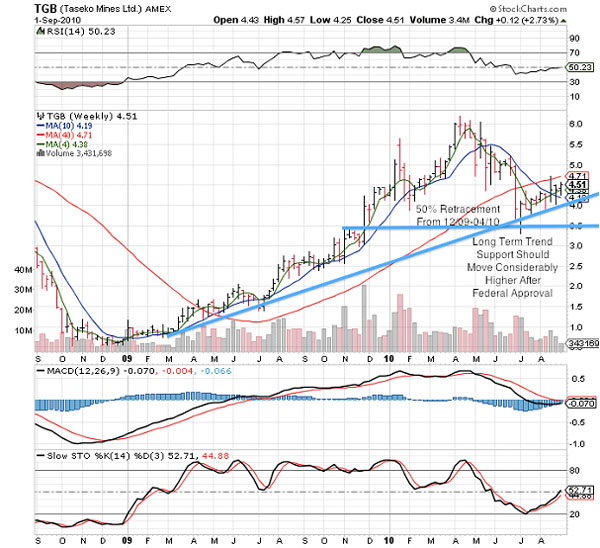 An important company to watch is the company Copper Mountain rejected from taking over, Taseko Mines. Their Prosperity Project is British Columbia's flagship mine and one of the largest gold-copper porphyries in the world. Mixed metal mines are receiving a premium and are actively being acquired by large miners. However, Taseko is significantly on sale due to the environmental concerns on the project. 
In July, the Federal Review panel came out with a report stating that Prosperity will have significant adverse implications on the Trout Lake, as well as the grizzly bear population. This sent the stock down to its 50% retracement. Investors are now able to get Taseko shares on sale in advance of the decision that will come out over the next few weeks. Prosperity is expected to bring in $400 million in revenue a year. The project is very popular in British Columbia, as it will have tremendous economic benefits. I do not believe that the prime minister and cabinet will go against BC's provincial approval from this past January. Their approval was based on the belief that the massive economic benefits would far outweigh the environmental loss to the local community. 
If the prime minister rules against the province, it will have devastating effects not only on British Columbia but also on the progress BC has made with the aboriginal people. Franco Nevada Corp. (TSX:FNV) has made a gold stream agreement on Prosperity, and Taseko Mines Ltd. (TSX:TKO, NYSE.A:TGB) is ready to go once they receive the final go ahead. This is the culmination of decades of work on this property and a major milestone for British Columbia. The next few weeks and the announcement on Prosperity should be positive and rewarding to shareholders. 
Gold Stock Trades Editor Jeb Handwerger is a highly sought-after stock analyst syndicated internationally and known throughout the financial industry for his accurate and timely analysis of the equities markets, particularly the precious metals sector. Subscribe to his FREE Newsletter right now at: http://goldstocktrades.com.
Want to read more exclusive Gold Report interviews like this? Sign up for our free e-newsletter, and you'll learn when new articles have been published. To see a list of recent interviews with industry analysts and commentators, visit our Expert Insights page.
DISCLOSURE:
1) Jeb Handwerger: I personally and/or my family own shares of the following companies mentioned in this interview: New Gold. I personally and/or my family are paid by the following companies mentioned in this interview: None.
2) The following companies mentioned in this article are sponsors of The Gold Report: Copper Mountain, Terrane Metals, Royal Gold and Franco Nevada.