Corvus Gold Reports Positive Metallurgical Results, North Bullfrog Project, Nevada
Vancouver, B.C……..Corvus Gold Inc. ("Corvus" or the "Company") – (TSX: KOR, OTCQX: CORVF) is pleased to announce a series of bottle roll tests performed over 96 hours on bulk sample materials collected from historical mine waste dumps at the Mayflower deposit (see Figure 1).  Test results confirm potential for low cost heap leach recovery operation. Samples returned approximately 98% of gold recovered for particles ≤ 200 mesh size (-0.075mm).
The initial Mayflower results (Table 1) have returned similar or better leach curves to other oxide ores in the district.  The Company is conducting similar leach tests on samples from the large diameter core drilling program that was completed in June to assess the long term recovery rates of different size fraction at Mayflower.  Based on this initial data the Company expects the long-term Mayflower gold recovery rates to compare very favourably to those observed in the column tests run between 100 to 120 days from bulk samples at Sierra Blanca and Jolly Jane (Chart 1) as reported in the Preliminary Economic Assessment of North Bullfrog (Technical Report and Preliminary Economic Assessment for the North Bullfrog Project, Bullfrog Mining District, Nye County, Nevada, February 28, 2012).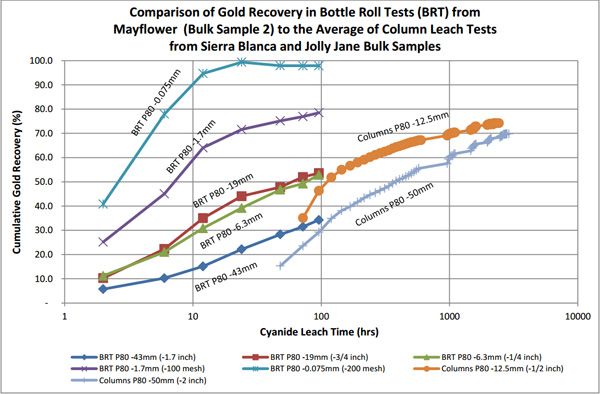 Chart 1: Chart comparison of gold recoveries from bulk samples using bottle roll tests at Mayflower and the average of column tests at Sierra Blanca & Jolly Jane
Carl Brechtel, COO of Corvus, stated: "These initial metallurgical test results are confirming the potential for a low unit cost, heap leach recovery operation at Mayflower. It is encouraging to see recoveries over 50% in just 96 hours for particles less than 3/4 inch when we consider the normal production leach cycle will be in excess of 100 days.  The near total gold recovery in the -200 mesh material indicates that essentially all of the gold in the rock is recoverable which is a very positive indication for heap leaching.   The Mayflower project (see Figure 1) is progressing rapidly with encouraging technical results, paving the way to developing Nevada's next gold mine."
Table 1
Mayflower Bulk Samples, North Bullfrog Project
Gold Recovery (%) in 96 hr Bottle Roll Tests at Varying Particle Sizes
Test No.

P80 -200 mesh
(-0.075mm)

P80 -100 mesh
(-1.7 mm)

P80 -1/4 inch
(-6.3 mm)

P80 -3/4 inch
(-19 mm)

P80 -1.7 inch
(-43 mm)

MF Bulk Sample 1

98.9%

65.1%

49.5%

51.9%

37.7%

MF Bulk Sample 2

97.9%

78.6%

52.9%

53.6%

34.3%
Metallurgical composites have been prepared from the PQ core drilled in Phase 1 of the 2012 program (NR12-16, June 12, 2012). A total of 6 composite samples have been created for the Mayflower deposit,  with sufficient material for 12 individual column leach tests at a P80 size of -3/4 inch (-19 mm). The column leach results will be supplemented by bottle roll tests on each composite at nominal P80 sizes of -200 mesh (-0.075 mm), -100 mesh (-1.7 mm), -1/4 inch (-6.3 mm) and -3/4 inch (-19 mm). A similar group of columns and bottle roll tests have been prepared from composites of PQ core material from Sierra Blanca. Leaching of the columns has begun at McClelland Laboratories, with final results planned to be available in December 2012.
Figure 1: Corvus land position at North Bullfrog showing the Mayflower Resource Area, and the Other Resource Areas.  Drill collar locations are shown for reference.
About the North Bullfrog Project, Nevada
Corvus controls 100% of its North Bullfrog Project, which covers approximately 24 square kilometres in southern Nevada just north of the historic Bullfrog gold mine formerly operated by Barrick.  The property package is made up of a number of private mineral leases of patented federal mining claims and 161 federal unpatented mining claims.  The project has excellent infrastructure, being adjacent to a major highway and power corridor.
The project currently includes numerous prospective gold targets with four (Mayflower, Sierra Blanca, Jolly Jane and Connection) containing an NI 43-101 compliant estimated Indicated Resource of 15 Mt at an average grade of 0.37 g/t gold for 182,000 ounces of gold and an Inferred Resource of 156 Mt at 0.28 g/t gold for 1,410,000 ounces of gold (both at a 0.2 g/t cutoff), with appreciable silver credits.  Mineralization occurs in two primary forms: (1) broad stratabound bulk-tonnage gold zones such as the Sierra Blanca and Jolly Jane systems; and (2) moderately thick zones of high-grade gold and silver mineralization hosted by structural zones with breccias and quartz-sulphide vein stockworks such as the Mayflower and Yellowjacket targets.  The Company is actively pursuing both types of mineralization.
A video of the North Bullfrog project showing location, infrastructure access, and 2010 winter drilling is available on the Company's website at
http://www.corvusgold.com/investors/video/.
Qualified Person and Quality Control/Quality Assurance
Jeffrey A. Pontius (CPG 11044), a qualified person as defined by National Instrument 43-101, has supervised the preparation of the scientific and technical information (other than the resource estimate) that form the basis for this news release and has approved the disclosure herein.  Mr. Pontius is not independent of Corvus, as he is the CEO and holds common shares and incentive stock options.
Carl E. Brechtel, PE, a qualified person as defined by National Instrument 43-101, is responsible for planning and execution of the technical and engineering studies at North Bullfrog, and has prepared this news release. He approves the disclosure herein. He has over 30 years of experience in the mining industry, is a registered professional engineer in the States of Colorado and Nevada, and is a Registered Member of SME. Mr. Brechtel is not independent of Corvus, as he is the COO and holds common shares and incentive stock options.
Mr. Gary Giroux, M.Sc., P. Eng (B.C.), a consulting geological engineer employed by Giroux Consultants Ltd., has acted as the Qualified Person, as defined in NI 43-101, for the Giroux Consultants Ltd. mineral resource estimate.  He has over 30 years of experience in all stages of mineral exploration, development and production.  Mr. Giroux specializes in computer applications in ore reserve estimation, and has consulted both nationally and internationally in this field.  He has authored many papers on geostatistics and ore reserve estimation and has practiced as a Geological Engineer since 1970 and provided geostatistical services to the industry since 1976.  Both Mr. Giroux and Giroux Consultants Ltd. are independent of the Company under NI 43-101.
Mr. William J. Pennstrom, Jr., a consulting process engineer and President of Pennstrom Consulting Inc. has acted as the Qualified Person, as defined by NI 43-101, for evaluation of the metallurgical testing data. He has over 30 years of experience in mineral process design and operation, and has been an independent process and metallurgical consultant for the mining industry for the last nine (10) years. He is a Registered Member of the Society of Mining, Metallurgy and Exploration (SME Member No. 2503900). Mr. Pennstrom and Pennstrom Consulting Inc. are both independent of the Company under NI 43-101 definitions.
The work program at North Bullfrog was designed and supervised by Russell Myers (CPG 11433), President of Corvus, a Qualified Person defined by NI 43-101, by and Mark Reischman, Corvus Nevada Exploration Manager, who are responsible for all aspects of the work, including the quality control/quality assurance program.  On-site personnel at the project log and track all samples prior to sealing and shipping. Quality control is monitored by the insertion of blind certified standard reference materials and blanks into each sample shipment. All resource sample shipments are sealed and shipped to ALS Chemex in Reno, Nevada, for preparation and then on to ALS Chemex in Reno, Nevada, or Vancouver, B.C., for assaying.  ALS Chemex's quality system complies with the requirements for the International Standards ISO 9001:2000 and ISO 17025:1999.  Analytical accuracy and precision are monitored by the analysis of reagent blanks, reference material and replicate samples. Finally, representative blind duplicate samples are forwarded to ALS Chemex and an ISO compliant third party laboratory for additional quality control. McClelland Laboratories Inc. prepared composites from duplicated RC sample splits collected during drilling. Bulk samples were sealed on site and delivered to McClelland Laboratories Inc. by ALS Chemex or Corvus personnel. All metallurgical testing reported here was conducted or managed by McClelland Laboratories Inc.
About Corvus Gold Inc.
Corvus Gold Inc. is a resource exploration company, focused in Nevada, Alaska and Quebec, which controls a number of exploration projects representing a spectrum of early-stage to advanced gold projects.  Corvus is focused on advancing its 100% owned Nevada, North Bullfrog project towards a potential development decision and continuing to explore for new major gold discoveries. Corvus is committed to building shareholder value through new discoveries and leveraging noncore assets via partner funded exploration work into carried and or royalty interests that provide shareholders with exposure to gold production.
On behalf of
Corvus Gold Inc.
(signed) Jeffrey A. Pontius
Jeffrey A. Pontius,
Chairman and Chief Executive Officer
Contact Information:   Ryan Ko
Investor Relations
Email: info@corvusgold.com
Phone: 1-888-770-7488 (toll free) or (604) 638-3246 / Fax: (604) 408-7499