Huge Additions to Gold ETF Inventory
The popular SPDR Gold Shares ETF (NYSE:GLD) has seen some huge additions to the "tonnes in the trust" in recent days, 16.7 tonnes showing up on Monday and 30.4 tonnes added yesterday, the biggest single-day increase since February 2009.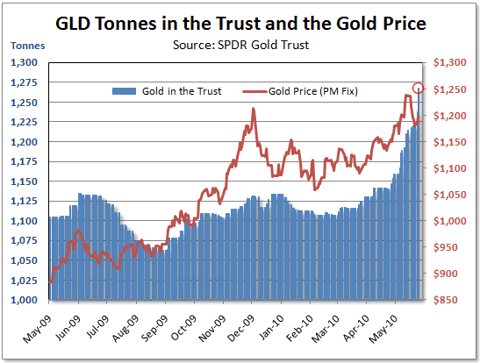 So far this year, a total of 134 tonnes have been added to the trust, nearly all of the net gain coming in just the last month. This compares to last year's record increase of 353 tonnes and, here too, the gains were concentrated, almost all of 2009's overall increase occurring in the first quarter during the height of the financial market panic. Inventory now stands at an all-time high of 1267 tonnes valued at an astonishing $49 billion.
Author's Site: http://timiacono.com/