KEY SECTORS TO WATCH IN 2014 – PART 2
KEY SECTORS TO WATCH IN 2014 –
PART 2
If gold miners got destroyed in 2013, junior gold miners got taken to the woodshed, obliterated, then eviscerated.  You really can't find a more beaten up sector over the past 3 years.  You can't find a sector that is more hated, where more pessimism and fear reign supreme.  So if you're a contrarian, you should stand up and take notice.
Here's something that you need to understand.  Junior gold miners don't always just go down.  In fact one of the biggest gains in any sector from its 2008 low to 2011 high was in the junior gold mining sector.  The Canadian Venture Exchange gained 256% from its December 2008 bottom to its March 2011 top, a huge gain over a period of 27 months.  The GDXJ junior gold ETF came out in late 2009.  In 2010 it was one of the best performing ETFs in the market gaining about 67%.  From its 2010 low to its 2011 high, a little over a year in duration, GDXJ was up over 100%.  So the junior miners have experienced bull markets in the past.
There's a saying that bear markets follow bull markets, and bull markets follow bear markets.  For a great example of that checkout the history of the Canadian Venture Exchange.  The chart below shows the major bear markets shaded in red, and the major bull markets shaded in green.  If you notice after the 2008 bear market ended, an increase in buying pressure went on to produce the bull market from 2009-2011.  That's what is missing currently as the Venture has built a base but buying pressure still hasn't shown up in full force.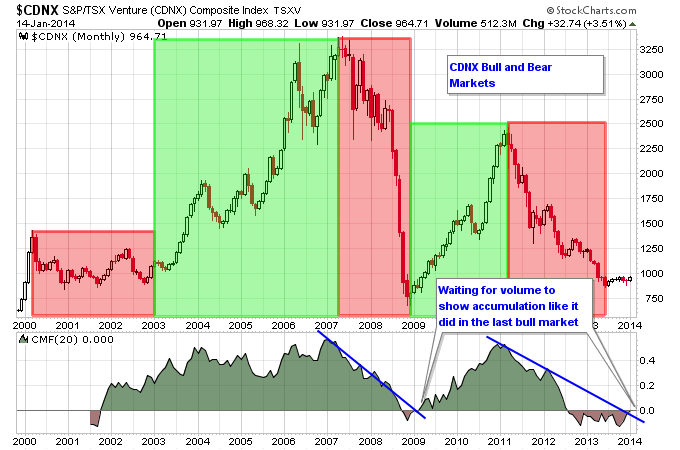 Taking a closer look at the most recent bear market in the Venture notice that momentum to the downside bottomed way back in October 2011.  Since that low there's been a positive divergence in momentum as the Venture has drifted lower at a slower pace.  The Venture then made a crash low in April 2013, followed by a slightly lower low in June 2013 that was quickly recovered.  That started setting up the Stage 1 base that is still ongoing today.  The Venture started to fade in late 2013 due to tax loss selling but has quickly recovered in 2014 to keep the base intact.  So in total the Venture is looking at a 9-month base that is just in need of some volume to establish a breakout.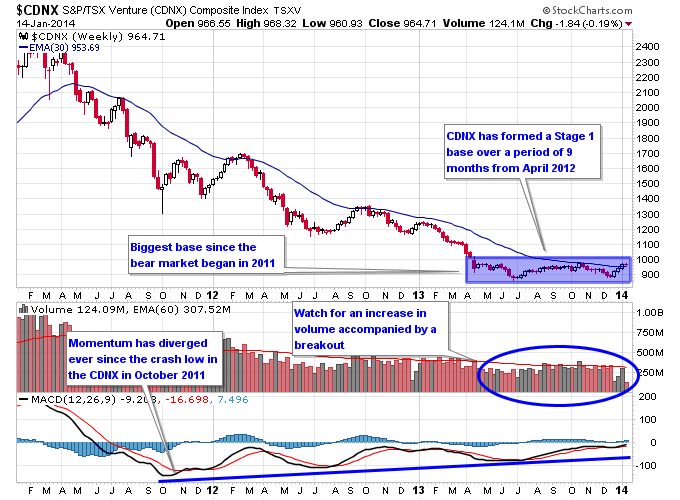 Uranium
Uranium took a major hit during the Fukushima disaster in 2011.  But the supply-demand situation in uranium is still an important factor as the world still consumes more uranium than it produces to power nuclear reactors.  In 2012 it was estimated world nuclear industry consumption of uranium was around 180 million lbs. and production was only around 152 million lbs.
After Fukushima uranium crashed and trended lower up until late-2012, as shown by the chart below that essentially is a proxy for the price of uranium.  Since late-2012, uranium has formed a Stage 1 base.  So that base is well established at over a year in duration now. Around October 2013 uranium started getting some buying pressure and moved up to the top of the base.  Since then it has formed a bull flag and could be on the verge of a breakout.  Uranium mining stocks have also exhibited the same pattern in many cases, confirming the case for the sector.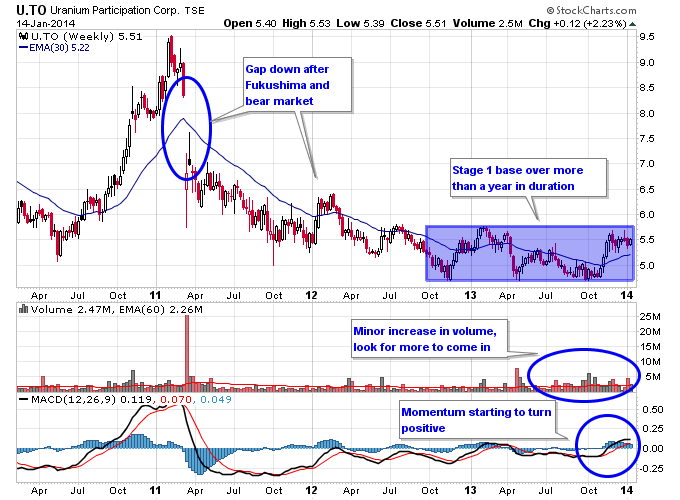 Financials and Broker-Dealers
It's commonly understood that if the banks and brokers aren't in a bull market there's little chance that the overall stock market will remain in a bull market either.  This is very evident in the way these two sectors have traded since 2009.  From their 2009 bottom both the banks and brokers ran higher all the way into early 2011, but from there they ran into problems.  From 2011 to 2012 the banks and brokers consolidated those early gains by forming a cup with handle pattern on the chart.  This coincided with the overall consolidation in the stock market during that period.
In 2013 the financial sector moved up strongly in a Stage 2 advance after breaking out of the cup with handle pattern.  This undoubtedly helped the overall market achieve strong gains.  However since mid-2013 a negative divergence in momentum has been established with new highs in the financials.  After such an extended run this could be signalling the start of a consolidation period for the sector in early 2014.  Either way the banks and brokers are important to monitor as any breakdown in this sector will spell trouble for the rest of the market.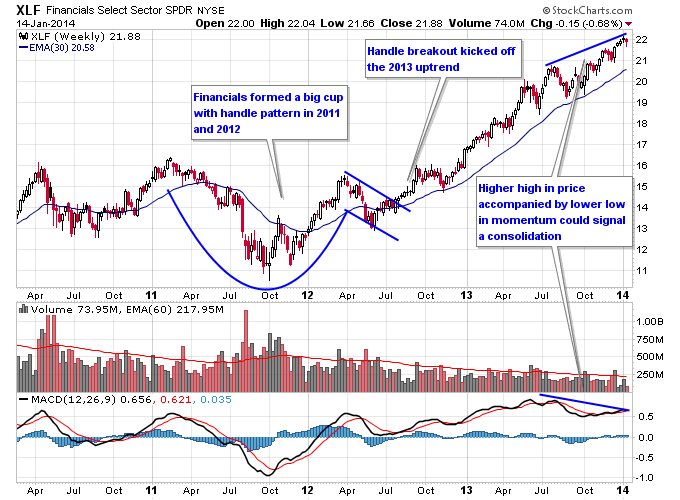 Coffee
Coffee has been decimated since its bear market began in 2011.  It's been one of the worst performing commodities.  However like all commodities coffee has a price where the supply-demand situation will once again favor the buyers.  Coffee can be described as being either in a late Stage 4 decline, or possibly an early Stage 1 bottom.  Coffee made a low in November 2013 but has gapped up on volume to start 2014.  It's possible bottom fishers are playing a bounce in a crushed market, but more importantly if coffee starts to form a base it could eventually establish the basis for a new bull market.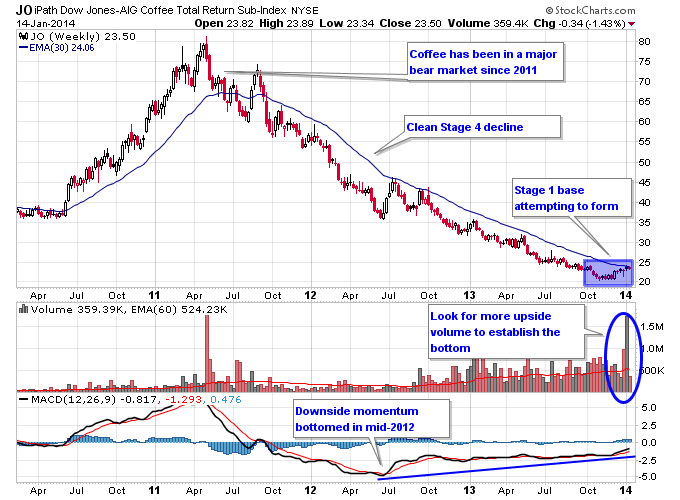 Palladium
Palladium is extremely intriguing in the precious metals space because of the way it has diverged from the carnage in the gold and silver markets.  Palladium amazingly made a low for its bear market in October 2011!  This is only one month after gold made its recent bull market high.  That's pretty incredible considering they typically trade together.  Ever since its bottom palladium has formed a massive 3-year cup with handle formation after rounding out the bottom of the cup in 2012.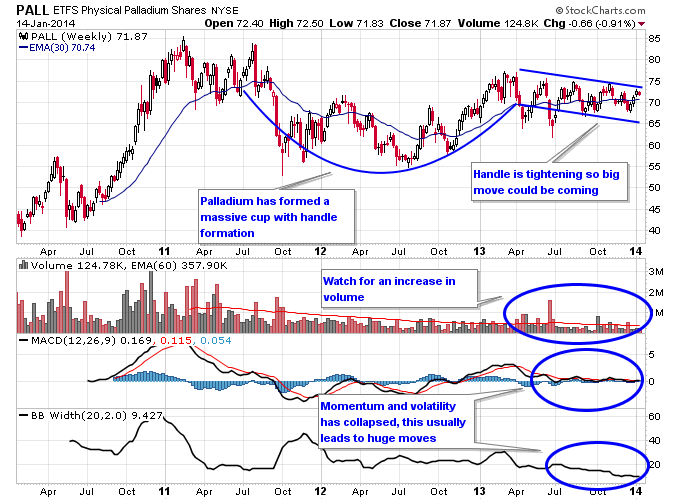 In 2013 while gold and silver were getting slammed, palladium diverged and held its ground.  It traced a choppy handle to the cup that formed in 2012.  The bottom of the handle occurred at the same time gold and silver bottomed in June 2013.  What's interesting to note is the volatility in palladium has collapsed, which typically leads to huge moves in a market.  Palladium probably won't be able to rally until the pressure on the precious metals markets finally goes away, but once it does look for potential fireworks in this metal.
Checkout Part 1 of this two part post where I covered Solar, Coal, Gold Miners, Shipping, Internet, 3D Printing, and Foreign Stocks.
Connect with me on Twitter: @nextbigtrade
The original article and much more can be found at: http://www.nextbigtrade.com
The views and opinions expressed are for informational purposes only, and should not be considered as investment advice. Please see the disclaimer.