Michael Ballanger: Market Conditions Extremely Gold-and-Silver Friendly
Source: Special to The Gold Report  (8/10/11)

"Buy the TSXV" was the advice Michael Ballanger, investment advisor for Union Securities Ltd., sent to his clients the morning after the Dow Jones Industrial Average lost 698 points, the worst loss since 2008. In this exclusive Market Conditions Update for The Gold Report, he explains why he sees the current climate as "extremely gold-and-silver friendly."
Companies Mentioned: Kaminak Gold Corporation – Tinka Resources Ltd.
As of this morning, I restated my "Buy the TSXV" recommendation based (largely) on the same reasons that I stated back in May. Until U.S. real estate turns, the U.S. economy is growing at structural stall speed. Until we see consecutive monthly rises in the Case-Schiller Home Price Index, policymakers—led by the Federal Reserve Board, the U.S. Congress, the European Central Bank, the People's Bank of China and every other individual who has never met a payroll in their lives—are going to embark on policies that are extremely gold-and-silver friendly. The Fed announcement Tuesday afternoon turned markets sharply higher, thus reinforcing my comments back in May that we will see as many periods of quantitative easing as necessary until the real estate market in the U.S. (and Europe) improves.
Now—as for the gold stocks—NEVER in my 35 years in this industry have I ever seen them so incredibly disconnected from the underlying commodity that they produce. In the past 72 hours, the fundamentals for this industry group absolutely soared and yet the shares declined. The "pundits" would suggest that "the gold stocks are telling you that gold prices are about to decline!" and I might agree with that except the historical lag effect between gold and gold shares is about four to six weeks and this has been going on since January! What I see in here is that the gold price might decline in the shorter term but the shares are going to absolutely explode based on the projected earnings and price-earnings ratio multiple escalation brought about by the very simple fact that they are extracting and selling gold at $1,700 per ounce.
I am advising clients to buy senior gold stocks as a proxy for not only this undervaluation, but also because they have less than 1% of professional managers of pension and mutual funds involved in this space. If a mere 20% of the money now trading Apple, Cisco and IBM decide to move to the precious metals space, it would inhale the entire market cap of this sector.
As for the junior mining space, avoid the penny stocks with poor treasuries that are purely exploration plays. Buy the issues that have adequate working capital and definitely accumulate the "discovery stocks" like Kaminak Gold Corporation (TSX.V:KAM) in the gold space and Tinka Resources Ltd. (TSX.V:TK; Fkft:TLD; Pksheets:TKRFF) in the silver space. These companies are extremely well-funded and their results are indicative of large gold and silver reserves in the development stage.
Without getting too animated here, I am pounding the table in my bullishness for the gold/silver sector. I am reminded of 1978 when the major markets were locked in a stagflation death spiral with fund managers holding a mere 0.7% of assets in gold, silver or precious-metals-related securities. They all moved in tandem over the next 18 months to north of 22% exposure. Well, given that the market cap of Apple Computer is basically larger than the entire TSX Venture Exchange, I would suggest that this massive asset allocation shift is, indeed, coming.
We just survived the Fear cycle; now it is time to benefit from the Greed cycle. Assess your risk-tolerance levels; look deeply into the mirror and if you pass your own internal acid test, you should get down to business and recall the famous old adage from the pits of the Chicago Mercantile Exchange: "When they're yellin', you should be sellin' and when they're cryin', we should be buyin'!" The sobs I have been hearing in the past week have been wails from the highest yardarm.
Finally, in 2009 I included a chart of the parabolic plunge of the TSXV as measured against the (then) rising price of gold. It was what turned me so bullish at the time. I urge you all to observe the same chart from yesterday: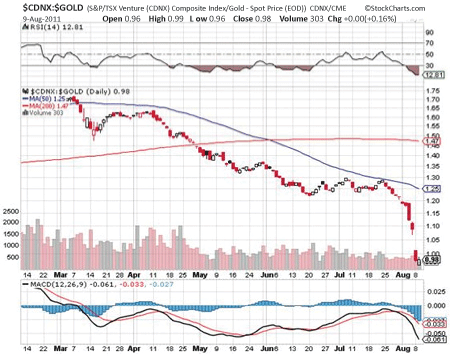 Now, go out and buy 'em!
Michael Ballanger completed his undergraduate studies at Saint Louis University, where he earned a BSc in finance and a BA in marketing. He joined the investment industry in 1977 with McLeod Young Weir Ltd., and currently serves as an investment advisor at Union Securities Ltd. His substantial background in corporate financing is further informed by his 30 years of experience as a junior mining and exploration specialist.
Want to read more exclusive Gold Report articles like this? Sign up for our free e-newsletter, and you'll learn when new articles have been published. To see a list of recent interviews with industry analysts and commentators, visit our Exclusive Interviews page.
DISCLOSURE:
1) The following companies mentioned in the interview are sponsors of The Gold Report: None.
2) USL recently acted as agent for a private placement offering of Tinka Resources and owns warrants in this stock.
Junior mining companies are speculative investments whereby significant loss of capital is possible and should be suitable for risk tolerant investors only. This article is solely the work of the author who is a registered investment advisor at Union Securities Ltd. ("USL"). This is not an official publication of USL and the author is not a USL analyst. The views (including any recommendations) expressed in this article are those of the author alone, and are not necessarily those of USL. The information contained in this article is drawn from sources considered to be reliable, but the accuracy and completeness of the information is not guaranteed, nor in providing it do the author or USL assume any liability. The information is given as of the date appearing on this article and neither the author or USL assume any obligation to update the information or advise on further developments relating to the information provided herein. This article is intended for distribution in those jurisdictions where both the author and USL are registered to do business in securities. The holdings of the author, USL, its affiliated companies and holdings of respective directors, officers and employees and companies with which they are associated may, from time to time, include the securities mentioned herein.