Silver: Runaway Move, Correction, Or Crash?
Silver attempted to take out 50 on Monday of this week and instead had a big reversal day as it temporarily ran out of gas.  Then after testing 45 the following day silver has moved higher after the Bernanke press conference and is once again approaching 50.  For the very short term silver appears to be trapped in the 45/50 box and is awaiting a break either above or below this box.
Silver has only been trading above 40 for 14 trading days, so even though it is testing 50 it really hasn't been in the 40s for very long.  This means silver has no support levels of significance in the 40s either if it was to turn sharply lower.  The first real level of support on the chart occurs around 36.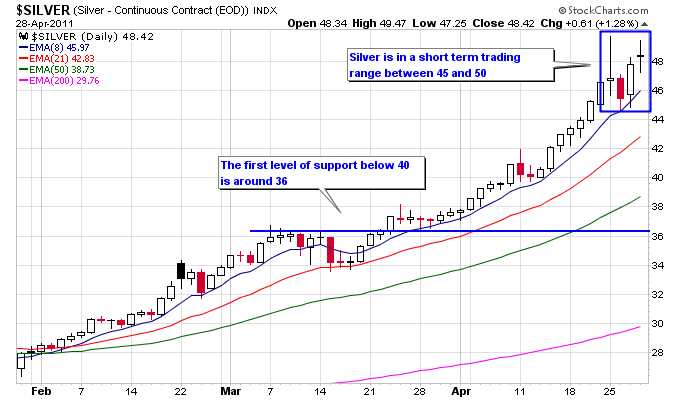 The runaway move silver has had so far appears to have started right at the beginning of April as silver has barely been below the 8 day moving average all month, and has only had 3 down days all month.  A break below 45 on silver likely puts a halt to the runaway move, and from there silver could undergo a correction or potentially a crash all the way back down to the 200 day moving average.  What happens with the dollar should have a major effect on whether silver corrects or crashes.  The dollar has had a swift decline recently but is likely overdue for a bounce and has some support around 71.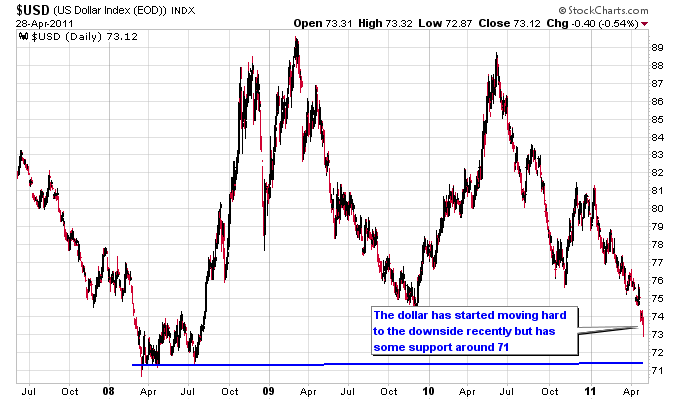 In 2006 silver only had a correction off of its first parabolic top, and made a new higher high as the dollar plunged.  Silver found support above the 50 day moving average on that correction.  Notice how silver plunged to the 200 day moving average after its final top.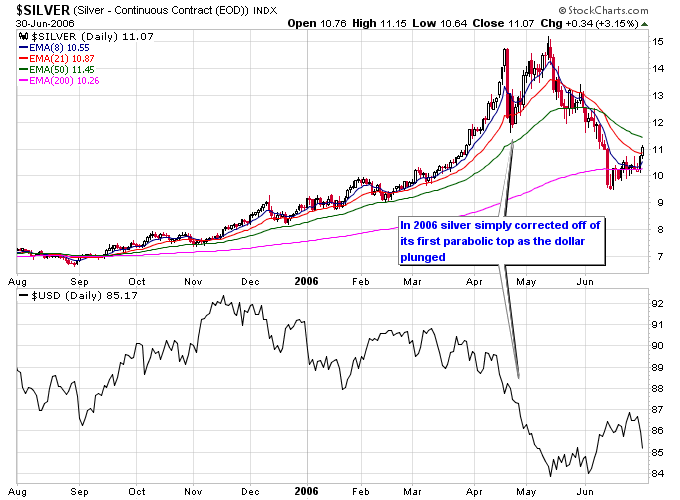 In 2004 silver crashed off of its spike top all the way back down to its 200 day moving average.  It temporarily found support at the 50 day moving average for a few days but ultimately that didn't hold on the way down to the 200 day moving average.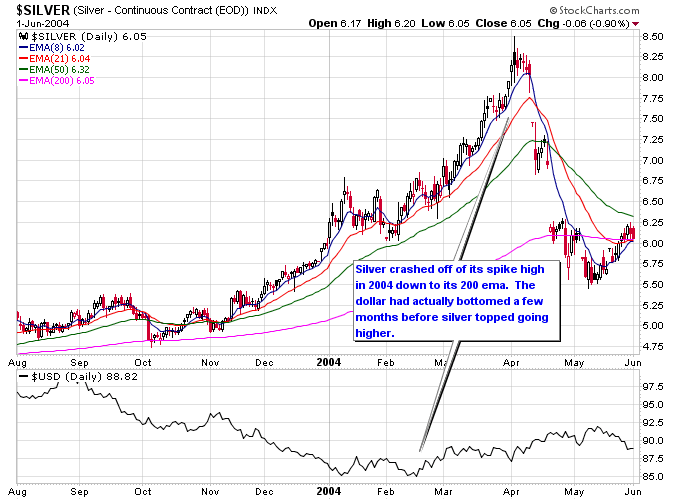 A lot has been made of mining stocks failing to keep up with silver during the later stages of this rally.  From this long term chart of the HUI Gold Miners index it appears that mining stocks have lost upside momentum during previous major tops in gold and silver.  There is a clear negative divergence between the price and the RSI and MACD Histogram towards the top.  The same negative divergence is playing out currently.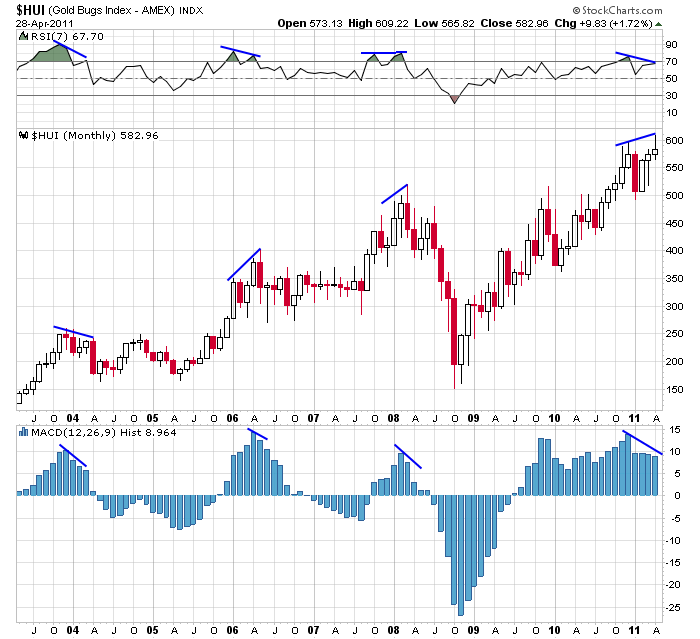 The last chart shows some potential zones to keep on the lookout for as this move in silver plays out.  Keep in mind silver hasn't been above 40 for very long so even a 20% move lower from here only takes silver down to where it was just a few weeks ago.