The Safest Way to Make Over 1,000% in Silver
By Dr. Steve Sjuggerud
Saturday, January 1, 2011
"Silver is now more attractive than it has been in decades," my colleague Porter Stansberry wrote to his subscribers.
"Assuming gold hits my target of $2,000 an ounce and assuming the price of gold is 16 times the price of silver," Porter continued, "then silver should be worth about $125 by the time the bull market in silver reaches its peak."
If Porter is even half right, then a recently launched silver investment could be the safest way to make over 1,000% in silver.
You see, before this year, we didn't have a simple way to buy a basket of silver companies. But now we do…
The Global X Silver Miners Fund (SIL).
This exchange traded fund owns a basket of the world's purest plays on silver mining – 30 stocks in all, with decent geographic diversification. (Silver companies from Canada and Mexico each make up a larger percentage of the fund than U.S. silver companies.)
If you think gold mining companies are speculative – you ain't seen nuthin'. Silver mining companies are extremely volatile. To see what I mean, take a look at the performance of the underlying index of the Global X Silver Miners Fund, versus the price of silver.
In 2008, when the price of silver fell in half, shares of silver mining companies lost 80% of their value.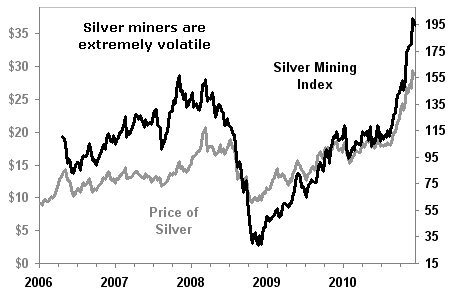 Since bottoming in 2008, silver mining companies are up FOURFOLD, as you can see in the chart. Silver is up about 250%.
Shares of silver companies are significantly more volatile than the price of silver. If Porter is right about the price of silver rising 500%, silver mining companies could easily soar over 1,000%.
Right now, you have four basic ways to profit if the price of silver goes up…
You can buy bags of silver coins from a dealer… but to build a serious position, you'd end up with a garage full of silver.
You can buy shares of the iShares Silver Trust (SLV), which tracks the price of silver. (For leverage to the silver price, you could buy double-long and double-short silver funds from ProShares.)
You can buy shares of a handful of silver companies.
For maximum upside, with more diversification than owning just a couple silver stocks, you can buy the Global X Silver Miners Fund, which holds shares of 25 silver companies. It's a volatile basket. But if silver rises like Porter thinks, you could make 1,000%-plus here.
As Porter told his readers, "However you decide to own it, make sure you buy some silver now."
Good investing,
Steve