Corvus Gold Intersects 6.8m @ 4.5g/t Gold and 5.1m @ 4.6g/t Gold on its Chisna Project, Alaska
Vancouver, B.C……..Corvus Gold Inc. ("Corvus" or the "Company") – (TSX: KOR, OTCQX: CORVF) is pleased to announce new drill and trench results from its summer exploration program at the Golden Range target area on its large Chisna Project located in south-central Alaska.  The Company has been informed by its joint venture partner, Ocean Park Ventures Corp. ("Ocean Park") that six drill holes and four surface trenches were completed and results received for the Notch target, one of over a dozen targets within the greater Golden Range Target region (Figure 1). Highlights include 15.8 metres at 3.2g/t gold including 6.8 metres of 4.5g/t gold in drill hole GR-11-09 and 17 metres at 2 g/t gold including 5.1 metres at 4.6 g/t gold in hole GR-11-15 (Table 2).  Results indicate that gold mineralization found at surface continues down dip for at least 250 metres.
Summer exploration at Golden Range has now defined a 12 kilometre long area with a number of highly prospective gold zones with quartz-sulphide mineralization in veins and shear zones that have returned numerous surface samples over 10 g/t gold (Figure 1).  The Notch Zone represents a particularly interesting target with a mapped strike length of 1 kilometre and many surface rock samples with grades in excess of 10 grams per tonne over a strike length of 900 metres (Figure 2).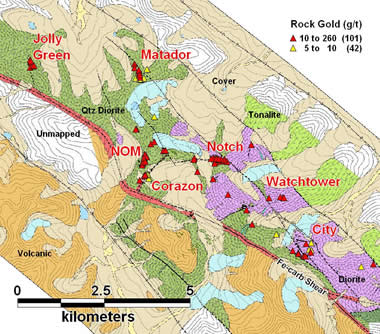 Figure 1: Geological map of the Golden Range Target showing major prospects and gold in surface rock samples.
Surface mapping and trench sampling at the Notch has shown that mineralization is hosted in a shear zone 40-60 metres thick which dips 40-50 degrees to the south. The entire zone is altered and mineralized with higher grade zones of quartz-arsenopyrite hosted in specific intervals within the larger structural zone. At the Notch a total of seven holes totalling 1674 meters and four trenches totalling 104 meters were completed (Figure 2).

Figure 2: Geological map of the Notch Target showing surface rock samples with drill and trench locations and traces.
Trench EN-TR-01 encountered 47 metres with an average grade of 1g/t gold including 5 metres of 3.4g/t gold (Table 1). Trench EN-TR-02 near the footwall of the shear had weaker mineralization associated with the outboard alteration zone.  Trench EN-TR-03 near the hangingwall of the shear returned 10 metres of 6.5g/t gold including an interval of 5 metres of 13.2g/t gold highlighting the zone's high-grade potential. Trench NO-TR-01on the western extension of the structure was 16 metres long and had only low grade mineralization (Table 1).
Table 1: Significant Intercepts* from Surface Trenching at the Notch target.
| | | | | | |
| --- | --- | --- | --- | --- | --- |
| Trench ID | From (m) | To (m) | Interval (m) | Gold (g/t) | Silver (g/t) |
| EN-TR-01 | 6.0 | 53.0 | 47.0 | 1.01 | 1.27 |
| including | 7.0 | 11.0 | 4.0 | 2.27 | 1.81 |
| including | 15.0 | 17.0 | 2.0 | 3.10 | 1.96 |
| EN-TR-01 | 24.0 | 27.0 | 3.0 | 2.17 | 5.27 |
| EN-TR-01 | 47.0 | 52.0 | 5.0 | 3.37 | 2.07 |
| EN-TR-02 | 2.0 | 27.0 | 25.0 | 0.26 | 0.72 |
| EN-TR-03 | 0.0 | 11.0 | 11.0 | 6.48 | 3.20 |
| including | 5.0 | 10.0 | 5.0 | 13.21 | 6.09 |
| NO-TR-01 | 5.0 | 13.0 | 8.0 | 0.74 | 2.11 |
A series of holes were drilled to test the down dip extension of the surface shear zone. Hole GR-11-09 encountered 16 metres of 3 g/t gold including 7 metres of 4.5 g/t gold with several other intervals of significant grade in a 60 metre thick shear zone (Table 2, Figure 3). Similarly, hole GR-11-15 encountered 17 metres of 2 g/t gold including 5 metres of 4.6g/t gold also in a 60 metre wide zone of alteration (Figure 3).  Unfortunately holes GR-11-10 and GR-11-12 encountered a significant fault zone and were lost before hitting the mineralized zone.   Holes GR-11-13 and GR-11-14 in the western extension both encountered 10's of metres of continuous lower grade mineralization.
These drill results show that gold mineralization in the Notch Shear continues for at least 250 metres down dip and that the high grades encountered at the surface can be found at depth. At present a detailed structural analysis is underway to better predict the distribution of higher grades zones within the larger shear zone at the Notch.  In addition the other high-grade gold targets in the Golden Range area are being further analyzed and drill targeting is underway.
Table 2: Significant Intercepts* from Drilling at the Notch target.
Hole ID

From (m)

To (m)

Interval (m)

Gold (g/t)

Silver (g/t)

GR-11-09

101.2

117.0

15.8

3.19

1.93

including

101.2

108.0

6.8

4.49

0.92

including

111.3

117.0

5.7

3.31

4.03

including

112.3

114.1

1.8

8.84

10.67

GR-11-09

140.5

152.8

12.3

1.60

1.93

including

141.5

147.8

6.3

2.58

2.77

GR-11-10

149.1

149.6

0.4

5.15

0.70

GR-11-12

No significant Intercepts

GR-11-13

1.9

46.7

44.9

0.34

0.68

GR-11-14

64.9

102.41

37.490005

0.40

GR-11-15

210.5

227.4

16.9

1.99

including

212.5

217.6

5.1

4.57

GR-11-16

No significant Intercepts
*Intercepts calculated using a cut off of 0.1g/t gold with maximum 3m of internal waste.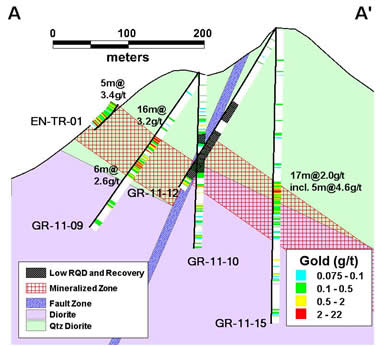 Figure 3: Geological cross section through the Notch
All of the foregoing information has been provided by Ocean Park, which is the operator of the joint venture on the Chisna Project.  Russell Myers (CPG 11433), a qualified person as defined by National Instrument 43-101, has reviewed and independently verified, the Ocean Park information that forms the basis for this news release and has approved the disclosure herein.  Mr. Myers is not independent of the Company, as he is the President and holds common shares and incentive stock options in Corvus.
About the Chisna Project
The Chisna Project is focused on a new and emerging Alaskan gold and copper-gold porphyry belt of deposits with copper and gold mineralization associated with mid-Cretaceous intrusions of similar age to the Pebble deposit to the west and Orange Hill deposit to the east.
Corvus and its predecessor-in-title, International Tower Hill Mines Ltd., began exploration on the project in 2006 and discovered the Grubstake porphyry copper system in 2007. Beginning in 2010, the Chisna project is being operated as a joint venture between Raven Gold Alaska Inc. (a subsidiary of Corvus) and Ocean Park Alaska Corp. (a subsidiary of Ocean Park Ventures Corp.), with Ocean Park earning 51% by contributing US$20 million in exploration expenditures over a 5 year period, thereby providing Corvus with a no-cost assessment of this belt. Ocean Park may earn an additional 19% by producing a bankable feasibility that delineates a mining project on the Chisna property that produces at least 300,000 gold equivalent ounces per year.
At present, the Corvus/Ocean Park joint venture controls over 232,000 acres of either State of Alaska Mining Claims or land leased from Ahtna Corporation.
About Corvus Gold Inc.
Corvus Gold Inc. is a resource exploration company focused in Alaska and Nevada which controls a number of exploration projects representing a spectrum of early-stage to advanced gold projects.  Corvus is committed to building shareholder value through new discoveries and leveraging those discoveries via partner funded exploration work into carried and or royalty interests that provide shareholders with exposure to gold production.
On behalf of
Corvus Gold Inc.
(signed) Jeffrey A. Pontius
Jeffrey A. Pontius,
Chairman and Chief Executive Officer
Contact Information:
Ryan Ko, Investor Relations
Email:  info@corvusgold.com
Phone: 1-888-770-7488 (toll free) or (604) 638-3246 / Fax: (604) 408-7499
Cautionary Note Regarding Forward-Looking Statements
This press release contains forward-looking statements and forward-looking information (collectively, "forward-looking statements") within the meaning of applicable Canadian and US securities legislation. All statements, other than statements of historical fact, included herein including, without limitation, statements regarding the anticipated content, commencement and cost of exploration programs, anticipated exploration program results, the discovery and delineation of mineral deposits/resources/reserves, business and financing plans and business trends, are forward-looking statements. Although the Company believes that such statements are reasonable, it can give no assurance that such expectations will prove to be correct. In addition, information with respect to the proposed activities of Ocean Park on the Chisna property has been provided by Ocean Park (the operator of the Chisna joint venture) and, as such activities are not within the control of the Company, the Company takes no responsibility for the accuracy of such statements. Forward-looking statements are typically identified by words such as: believe, expect, anticipate, intend, estimate, postulate and similar expressions, or are those, which, by their nature, refer to future events. The Company cautions investors that any forward-looking statements by the Company or any of its joint venture partners are not guarantees of future results or performance, and that actual results may differ materially from those in forward looking statements as a result of various factors, including, but not limited to, variations in the nature, quality and quantity of any mineral deposits that may be located, variations in the market price of any mineral products the Company or its joint venture partners may produce or plan to produce, the inability of the Company or any of its joint venture partners to obtain any necessary permits, consents or authorizations required for its or their activities, the inability of the Company or any of its joint venture partners to produce minerals from their properties successfully or profitably, to continue its projected growth, to raise the necessary capital or to be fully able to implement their respective business strategies, and other risks and uncertainties disclosed in the Company's latest interim Management Discussion and Analysis and filed with certain securities commissions in Canada. All of the Company's Canadian public disclosure filings may be accessed via www.sedar.com and readers are urged to review these materials, including the technical reports filed with respect to the Company's mineral properties.
Caution Regarding Adjacent or Similar Mineral Properties
This news release contains information with respect to adjacent or similar mineral properties in respect of which the Company has no interest or rights to explore or mine.  The Company advises US investors that the mining guidelines of the US Securities and Exchange Commission (the "SEC") set forth in the SEC's Industry Guide 7 ("SEC Industry Guide 7") strictly prohibit information of this type in documents filed with the SEC.  Readers are cautioned that the Company has no interest in or right to acquire any interest in any such properties, and that mineral deposits on adjacent or similar properties are not indicative of mineral deposits on the Company's properties.
This press release is not, and is not to be construed in any way as, an offer to buy or sell securities in the United States.